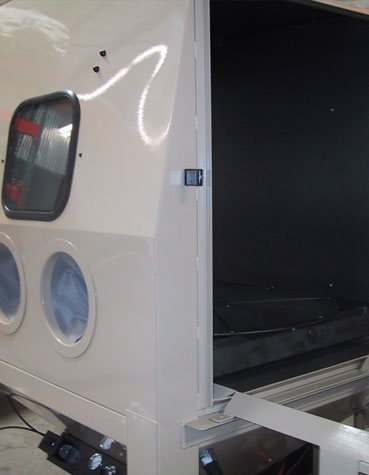 (Air) Blast Equipment
Cabinents
Portable Blast Pots
Blast Room Enclosures
Wet Blast Cabinents
Tumble Blast
Micro Abrasive Blasters
Peening Equipment
Automated Systems

Turn Tables
Multi Nozzles

Oscillation & XY Axis

Custom Fixtures
Pass Through Systems

Safety Equipment
Replacements Parts
The sub-straight can be almost anything.  A concrete wall for graffiti removal or metal parts that require scale removal (when you heat treat metal there is scale that develops on the surface that has to be removed). The application might be to harden metal by pounding and compression (shot peening – heavily used in aerospace industry), roughing up a surface for adhesion of maybe a paint, powder coat, rubber or a composite. Rust, coatings, calcium deposits  (pool tiles are blasted using glass bead for calcium buildup removal).
Abrasive blasting requires abrasives or what is commonly referred to as 'media.' 
Here are several factors to consider when choosing media:
• What is the material (sub straight) you are blasting
• Are you cleaning, removing, compressing or profiling
• Production requirement
Equipment options are presented based on multiple factors such as part size, media and production requirements.